The Great Smoky Mountain Journal
Staff Reports
Posted: Sunday, January 21, 2018 03:51 PM
KNOXVILLE - Irma has weakened to a Tropical Storm as winds and rain continue to lash parts of Florida and now Georgia, South Carolina, North Carolina, and Alabama, and we are starting to feel the impact in East Tennessee.

We are starting to see the outer fringe of Irma's wind and rain Monday afternoon. We're expecting sustained winds of 20-30 mph possible with higher gusts up to 40 mph possible. The highest winds are expected to occur in the mountains where gusts could reach 50 mph, which have already been recorded at Mt. LeConte.

A Wind Advisory will be in effect for all of East Tennessee from 2 p.m. Monday through 11 a.m. While widespread damage is not expected, we do anticipate a few trees and power lines could fall, causing some power outages. All loose objects on your property should be secured.

Flooding and heavy rains are possible in the Great Smoky Mountains National Park, mostly on the North Carolina side. Many visitor areas were closed to the public on Sunday ahead of the storm.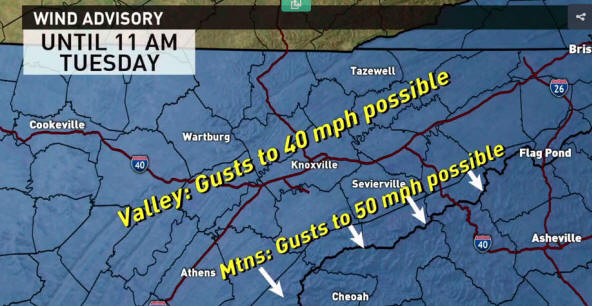 Graphic: WBIR